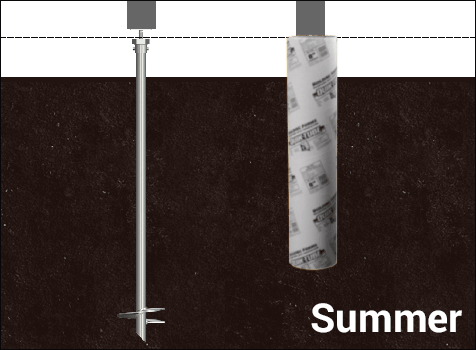 Resembling a large screw, screw piles are installed deep into the ground, beneath the ground freezing level, to solidly support the structure of your project. This is an advantageous alternative to form tubes and is less expensive than concrete foundations.
Opt for a simple and rapid installation, without excavating.
No damage to landscape or structures
Perfectly levelled structure
No delays between the end of the installation and the beginning of works
Ideal for restricted spaces
Possible no matter the season
Removable and reusable system
FOUNDATION SOLUTION FOR ANY TYPE OF INSTALLATION
Solar Panels
Secure panel support
Given an ever-increasing demand for solar power and other renewable energies, GoliathTech has ingeniously adapted its helical piles for use in anchoring solar panels. Wind resistance and durability are important factors with solar panels. GoliathTech's helical piles are an anchoring solution that will stabilize and support the panels, in any soil or weather condition, which ultimately protects them over the long term.
GoliathTech helical pillars are a better and easier solution than traditional concrete supports. Quick to install using only small equipment, the solar rack and panels can be raised immediately because no drying time is required.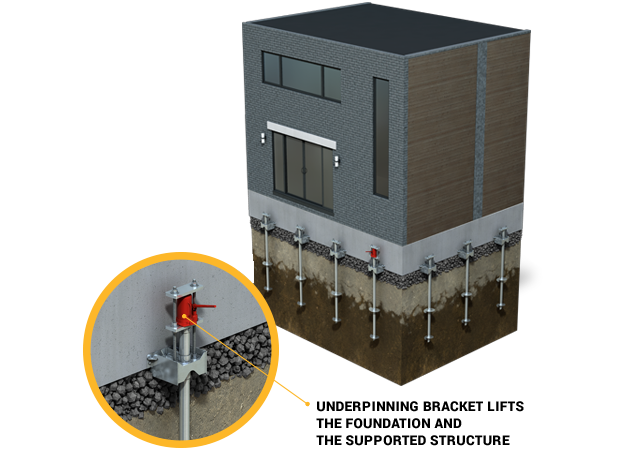 Decks
No damage from cold or frost and no movement!
GoliathTech screw piles solidly support decks over the long term, are much quicker to install, and allow deck construction to begin immediately after the installation. Plus, they're installed using small equipment that leaves no damage to the yard – perfect for backyards where space can be tight.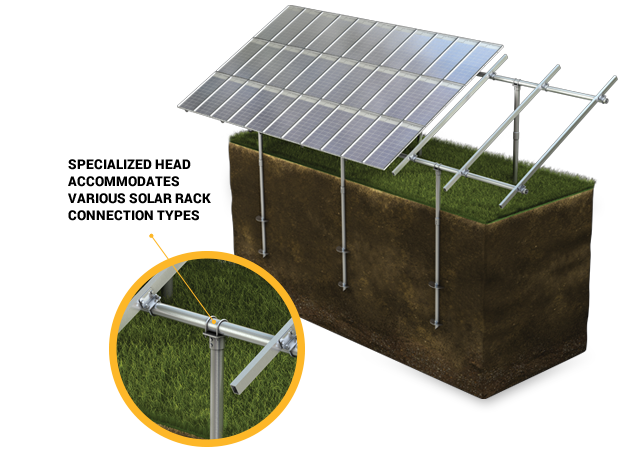 Underpinning
Strengthening the existing foundation of a structure will save you thousands of dollars versus replacing the entire foundation!
Underpinning becomes necessary when a foundation can no longer fully support the load of the structure that rests upon it.
At GoliathTech, we manufacture special underpinning brackets to stabilize and/or lift sunken structures. Our helical piles are planted deeply into the ground beneath the structure until they reach dense, compact and stable soil. Underpinning the foundation stabilizes and gives increased strength to the building's structure over time.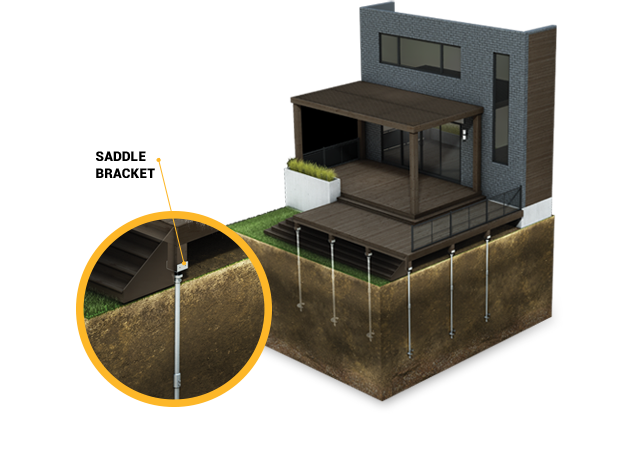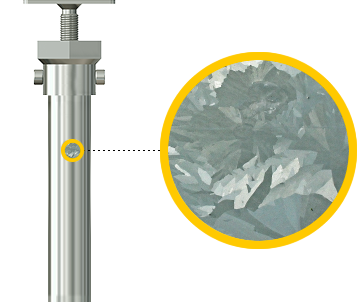 Steel + ZN
Superior quality galvanized steel, worthy of the most ambitious projects
Our galvanizing process protects steel against corrosion to guarantee maximum product longevity. No matter the area where they are installed, GoliathTech piles remain in perfect condition for a very long time. It's guaranteed!
GoliathTech Double Protection
Fights frost and thawing soil movements on all fronts: inside-out
Piles designed to last. Guaranteed.
1. The inside of GoliathTech piles is filled with polyurethane to prevent ice accumulation inside the pile. (Piles with a diameter over 6 5/8" do not contain polyurethane.)
2. The 60Ksi steel piles are fully galvanized to protect the tubes as well as the heads and helixes against physical deterioration. (Piles 4 1/2" and larger use 55Ksi steel.)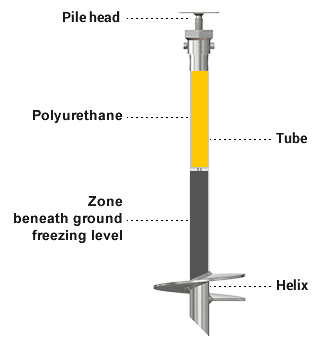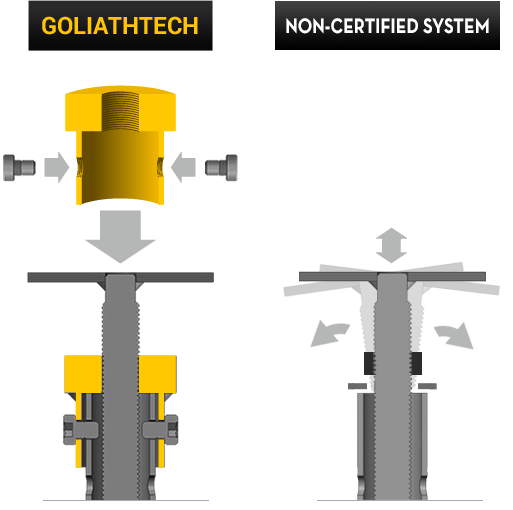 Exclusive Anchoring Solution
When detail makes the difference
GoliathTech pile heads are equipped with a nut-fastening system. This exclusive anchoring solution allows the structure to be installed directly on the piles, thereby preventing lateral or vertical movement.
Zero movement
Superior resistance to wrenching

GoliathConnect
Piles with reinforced joints
The GoliathConnect joint system allows a pile to be extended by joining two tubes using a locking bolt. Contrary to the competition's solution, this innovation strengthens long piles and eliminates risk of movement.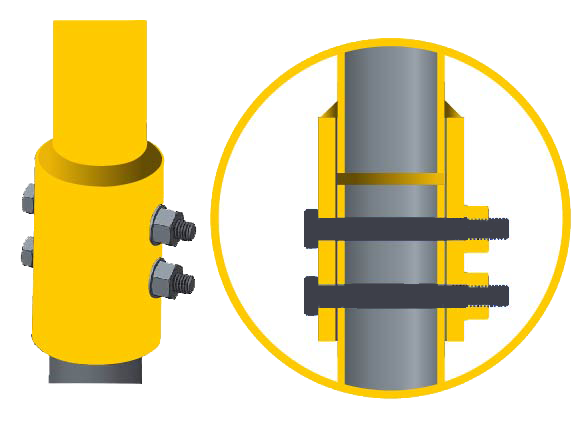 Download Stamped
Specification Sheets
Choosing The Right Pole
Piles for each project
GoliathTech offers a vast array of tubes and helices according to the weight to be supported and the type of soil. Each GoliathTech product is thus perfectly suited to your project.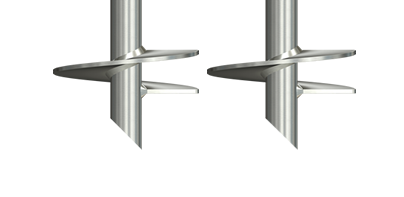 Light Structures
IDEAL FOR:
Balconies & galleries
Patios
Sheds
Fences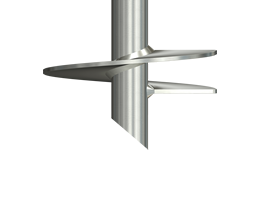 Average Structures
IDEAL FOR:
Docks
Solariums
Walk-ways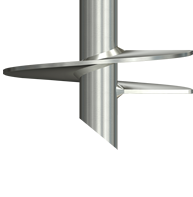 Heavy Structures
IDEAL FOR:
Cabins
Agricultural Infrastructure
Extensions
Building Foundations
Bridges